Frequently asked questions
Prices, shipment and payment method
---
There are two different sizes of the platform available. Please read the FAQ "which is the right size for my telescope".

The small Version is for 480€.
The large Version is for 510€.
The shipping costs in Germanyand Austria are 18€. For all other countries, please contact us beforehand for exact shipping costs.

Please prepare for eventual taxes or customs clearance for countries outside of germany and austria. All prices are retail prices excluding value added tax (small entrepreneurs to Section 19 UStG) and do not include shipping fees.

Our support payment method is wire transfer. We will provide the details of our bank account after we have received your order.
---
What do i get?
---
The shipment includes the platform in the size you have ordered. The platform includes the mounted (central bolt or bearings + teflon pads) parts according to the specifications you have provided.
The Android App for your smartphone or tablet will be sent to you via e-mail.
The shipment does NOT include a power source.
---
Which power source can i use?
---
The platform comes with a standard USB plug. So you may use any powerbank. There is just a little thing to consider: Most powerbanks simply switch off once they recognize that attached devices draw little currence. As our platforms consumption is just 70-80mA, your powerbank might switch off right in the middle. You have to try. Nevertheless, we found e.g. this powerbank to work perfectly:
KINPS, Model: KP-S010 We would be happy to know if yours works well. Then we can compile a list of well working power sources.
---
What are the minimum requirements for the App?
---
This App runs on any Android Smarthpone or Tablet which is running at leasst Android Version 4.1.2. So even older Smartphones are supported. The only must have is bluetooth.

---
Where can I download your app?
---
You will receive a download link after we have processed your order.


---
How about updates?


---
We are constantly improving our software. You will benefit from this for free. In case the microprocessor needs an update as well, we will ship you an updated processor at minimal costs.
Just visit our blog regularily.


---
Can I operate the EQP without smartphone?
---
The EQP will start operating automaticaly after powered on and a bluetooth connection with your smartphone can not be established within 60 seconds. So you just have to roughly align the EQP to north.
---
Which size is the right one for my telescope?
---
This manly depends on the outer diameter of your ebony-ring or other bearing material on your rockerbox.
As a good example, the small version of the platform perfectly carries up to 50cm rocker-boxes which mostly corresponds to a 16 inch dobson. The outer radius of your ebony-ring underneath your rockerbox should not exceed 265mm for the small version.
The larger version carries up to ~70cm rockerboxes or dobsons with roughly 340mm ebony-ring outside radius.
---
How can I best maintain my platform?
---
First: never ever lubricate the bearings. They are maintanance free.
Second: you can put some grease onto the worm gear from time to time.
---
My rockerbox does not have a center bolt
---
Not a problem though. Enter zero into the center-bolt diameter field. And enter the diameter of your rockerbox-cutout into the outer-diameter bearing field. We will mount three ball-bearings onto your Platform. One of them slightly adjustable to cover tolerances. (Image shows a pre-serial version customized for a Hofheim travel-dobson).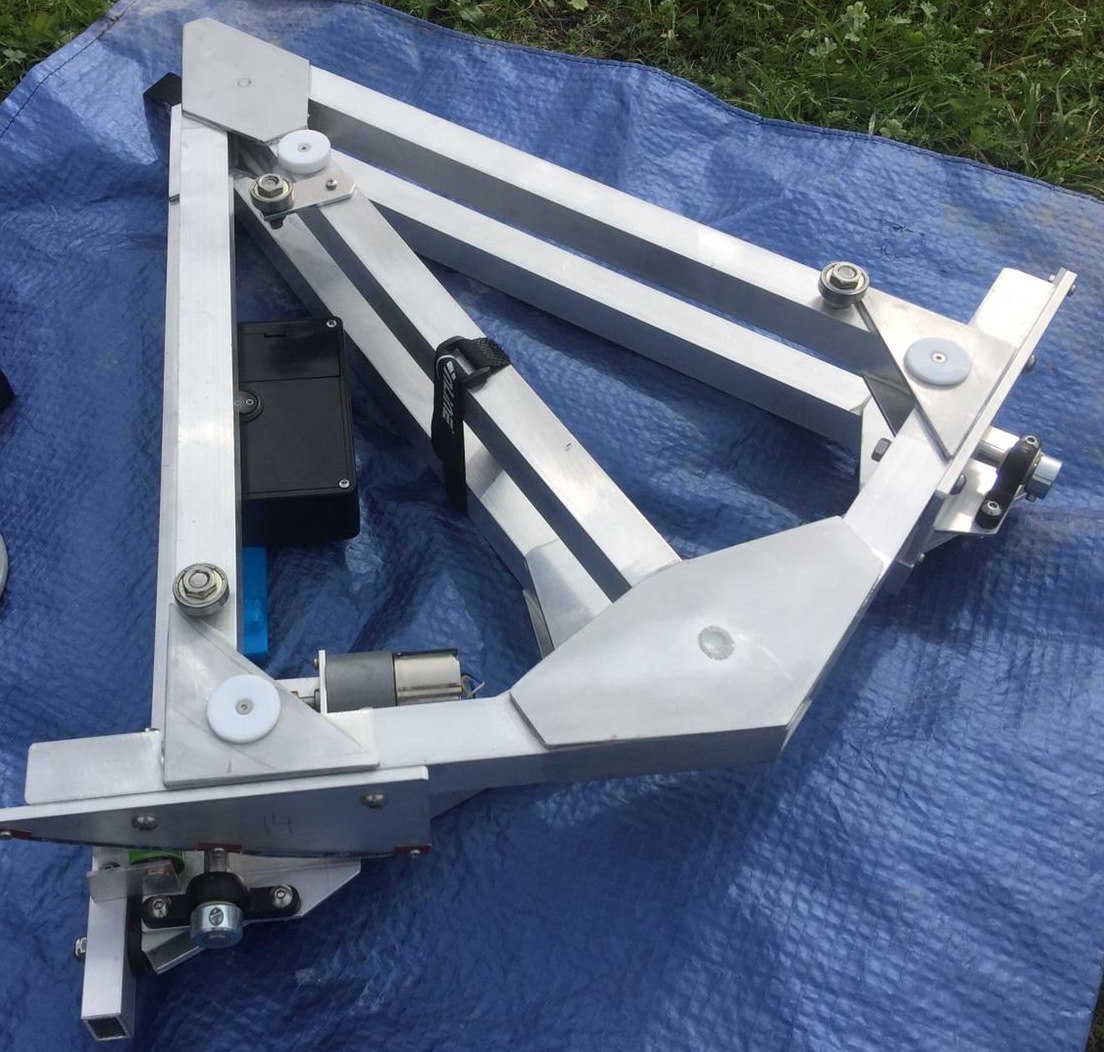 ---
Can I use my platform on different latitudes?
---
Sure you can. The platform is being shipped with the segments for the latitude you have specified with your order. The segments can be exchanged for any other latitude. You will have the possibility to order additional segments soon on this homepage. Or simply drop us an e-mail.
---
Can I put a tripod on my platform?
---
Have seen the immages from Dieter in our galery? He does this with his solar-scope and enjoys relaxed sun spotting. Leave as a comment with your order and tell us if we should drill the three tiny holes in the upper part of the platform. Let us know the diameter of the "pins" on your tripod to make it perfect.
---
Limitations?
---
Yes there are.
First, the app is currently only available for Android smartphones. We do not have support for IOS/IPhones.
Secondly, we are currently supporting the northern hemisphere only. Want to try it on the southern part of the hemisphere? Drop us a note.
---
Delivery time?
---
We always try to have one platform on stock. However, we yet do not know how this develops. As such, you should calculate at worst 4-6 weeks. In any event, we will have to produce your segments for your latitude, center bolt and so on.
---
---